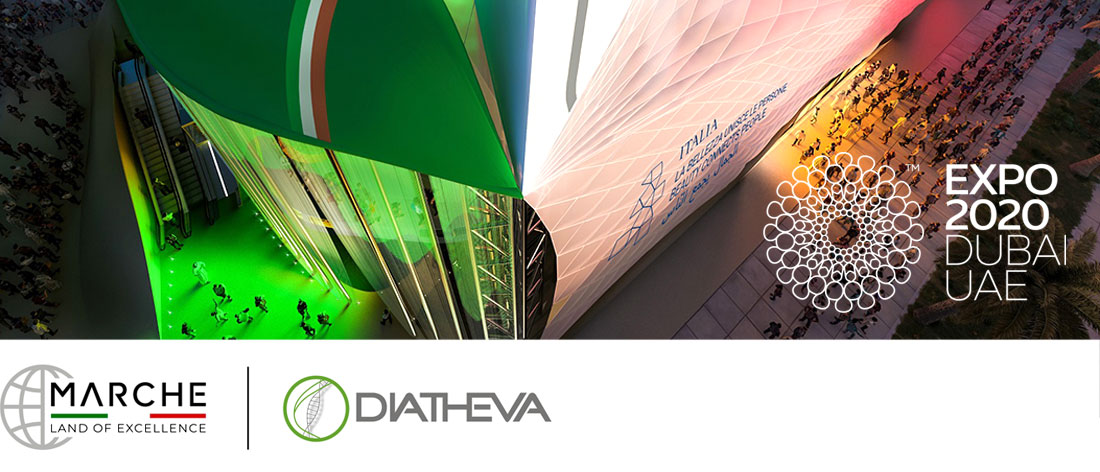 The Marche Region will be present at the Dubai Expo in the week 21-26 February 2022 with a series of forums, Italian dialogues and workshops in the Italian Pavilion that involve companies from the Marche region.
LAND OF EXCELLENCE this is the theme of the week: the excellence of know-how combined with the ability to innovate. "On the subject of innovation, the Marche Region has a lot to say and, on the biotechnology front, some companies in the area have achieved very important results" said Vice President Mirco Carloni, who wanted to bring the theme of innovation applied to diagnostic tools in the veterinary field to the attention of the public of Expo.
The Vice President will talk about it on the 24th of February with Stefania Mariani, CEO of Diatheva srl, – a company of the Sol Group – specialized in research, development and production of innovative solutions in the field of veterinary, clinical and environmental diagnostic activities. "We have welcomed with great pleasure the invitation of the Marche Region to discuss a topic that is very close to our heart, namely the development of new diagnostic technologies for the prevention of new possible virus pandemics" says Stefania Mariani – who will explain how the activities and the efforts made by the company in these two years to develop innovative diagnostics for the detection of Covid-19 constitute a solid background to face any future pandemics. In fact, there is an increasing need to apply a One Health approach to the control of potentially zoonotic diseases: applying a global criterion for prevention, the identification of new screening technologies, the innovation of rapid diagnostic methods and a subsequent early response. to emerging pathologies. We will discuss the topic of monitoring and surveillance of the spread of African Swine Fever (ASF), a highly contagious viral infection that affects domestic and wild pigs, which naturally involves the veterinary sector.
Diatheva, in its production site in Cartoceto (PU) represents an important reality at regional and European level in the research and development of ever emerging new technologies useful for detecting the spread of viruses such as genomic DNA and RNA analysis. The company, founded in 2002 as a spin-off of the University of Urbino, was acquired in 2012 by the SOL Group, with a vision of diversification oriented towards new markets and technologies. Reinforced by its solid academic background, Diatheva has a strong vocation for research and development of innovative solutions capable of improving the quality of life and health of patients: through its pipeline of highly technological biological drugs, making its expertise available in the field of pharmaceutical process development thanks to its state-of-the-art GMP plant, authorized by EMA for the development and production of active substances to be used for pre-clinical and clinical studies.